Dynamics 365 Business Central
The all-in-one ERP that evolves with you
Microsoft Dynamics NAV is now: Dynamics 365 Business Central
Microsoft Dynamics 365 Business Central is an all-in-one ERP solution for small and midsize businesses.
The digital evolution of Microsoft Dynamics NAV, used by millions of users, this available, flexible, and adaptable solution meets all your needs, including financial management, supply chain management, manufacturing management, project management, and services.
With Dynamics 365 BC, digital transformation is within reach for all businesses, regardless of type or size. Dynamics 365 BC keeps pace with the changing needs of businesses to help them become a significant player in their market.
Dynamics 365 BC breaks down the traditional silos between CRM and ERP business solutions, providing a unified system for all Microsoft Dynamics suite solutions on a single growth platform.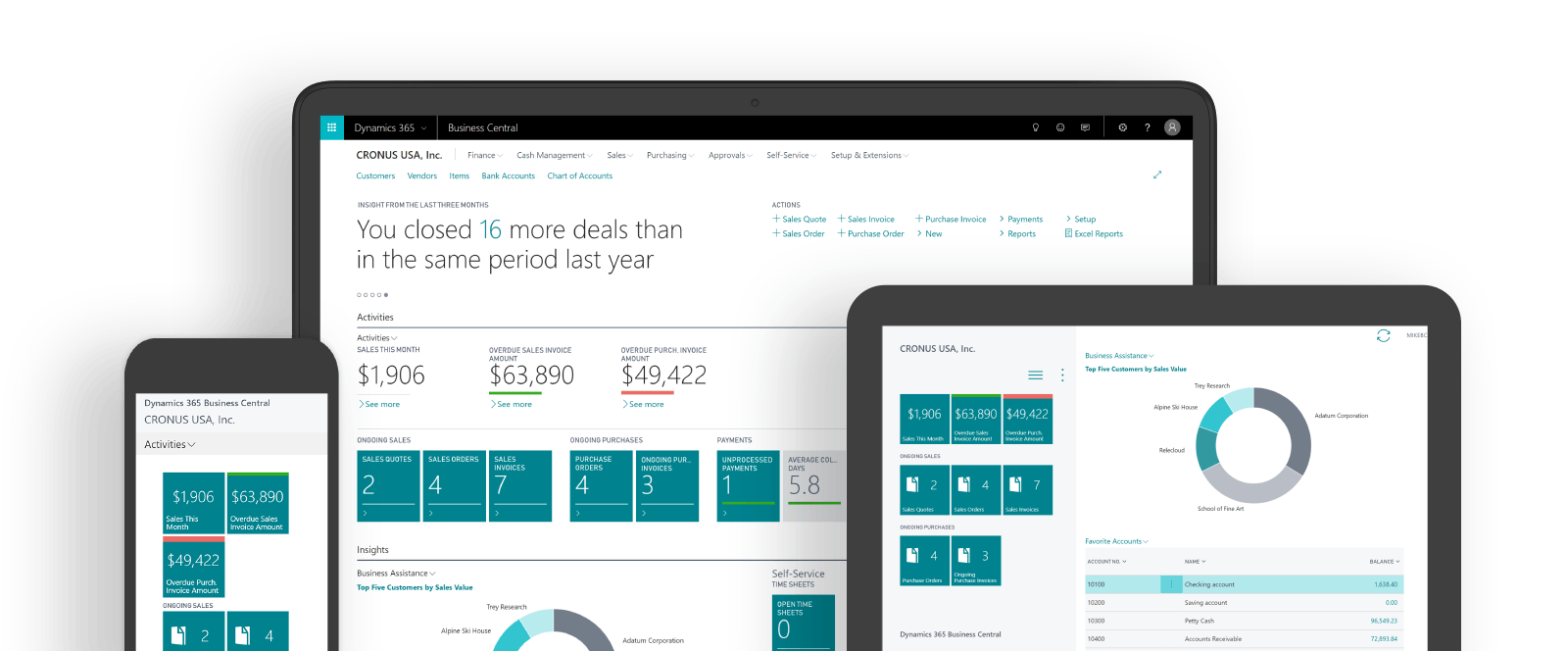 Connect and expand your business
Microsoft Dynamics 365 Business Central is specifically designed to help you with all the critical areas of your business – accounting, human resources, procurement, operations, projects, and more. It is an extremely powerful tool that offers a wide range of industries with its multi-language and multi-currency modules.
Finance & Accounting
Simplify your financial close and gain visibility into your company's performance
Logistics
Improve inventory management to avoid out-of-stocks and lost sales
Manufacturing
Optimize your production operations by automating your manufacturing processes
Project Planning
Stay on time and on budget by improving project management
Service & Sales
Ensure efficient follow-up on every customer communication
Take control of your finances
Make the right decisions
Combine data from accounting, sales, purchasing, inventory, and customer interactions for an end-to-end view of your business. Visualize your financial performance in real-time with built-in Power BI dashboards.
Accelerate financial close and reporting
Streamline accounts payable and receivable and automate accounting reconciliations to accelerate financial close and accurate financial statements while ensuring compliance.
Improve forecast accuracy
Refine financial forecasts with multiple levels of data modeling and analysis. Customize reports with seamless integration with Microsoft Excel.
Automate your supply chain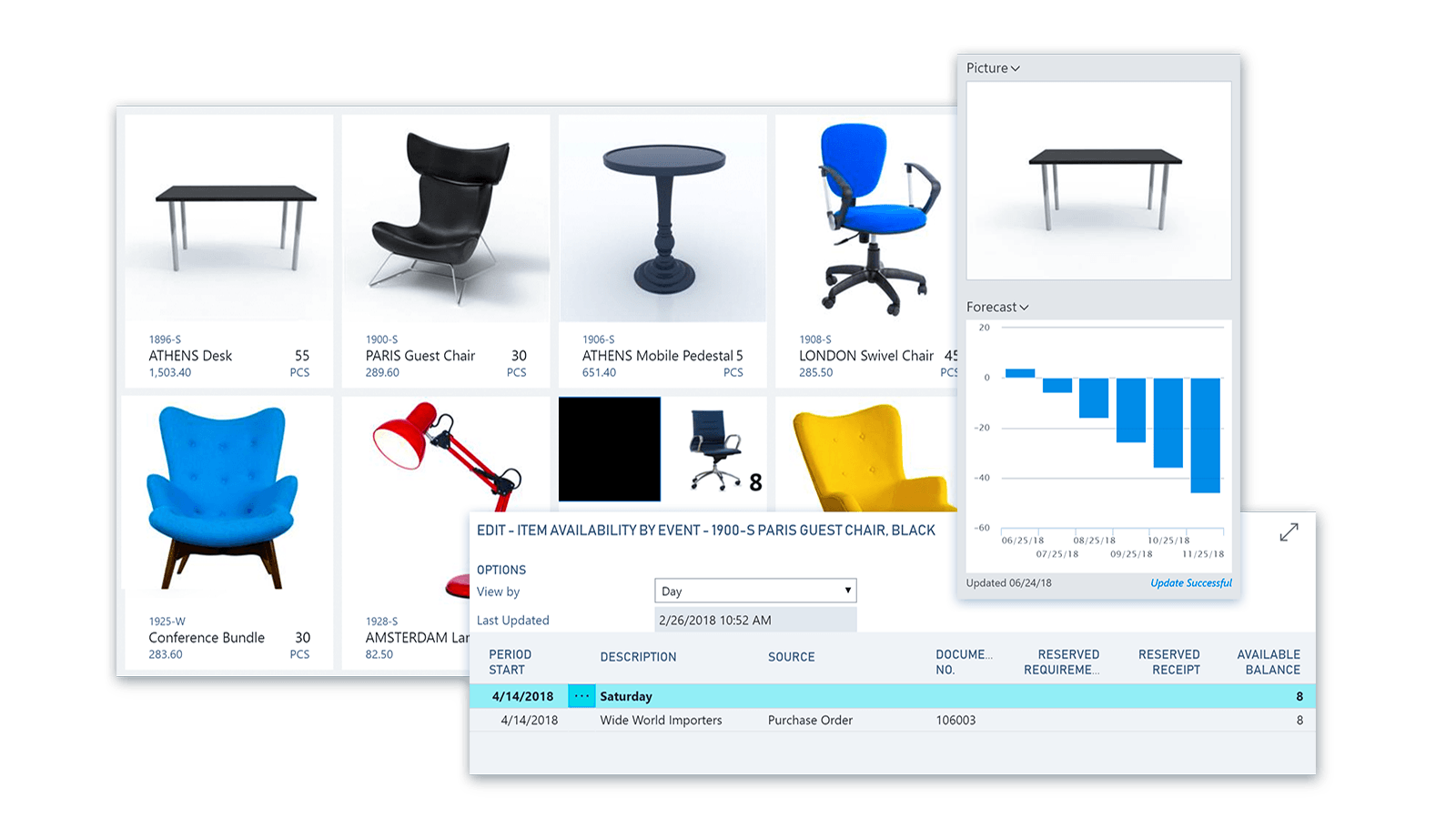 Optimize inventory levels
Built-in artificial intelligence predicts replenishment dates and which items to replenish. Buy only what you need with automatic inventory updates.
Avoid lost sales and out-of-stocks
Maintain the right amount of inventory by automatically calculating stock levels, lead times, and reorder points. Offer substitute products when requested items are out of stock.
Optimize profitability
Get recommendations on when to pay vendors to take advantage of vendor discounts or avoid penalties. Eliminate unnecessary or fraudulent purchases with approval processes.
Optimize your manufacturing operations
Manage from Forecast to Execution
Use sales and shortage forecasts to automatically generate production plans and vendor orders.
Achieve optimal profit levels
Calculate and optimize production capacity and resources to improve production schedules and meet customer demand.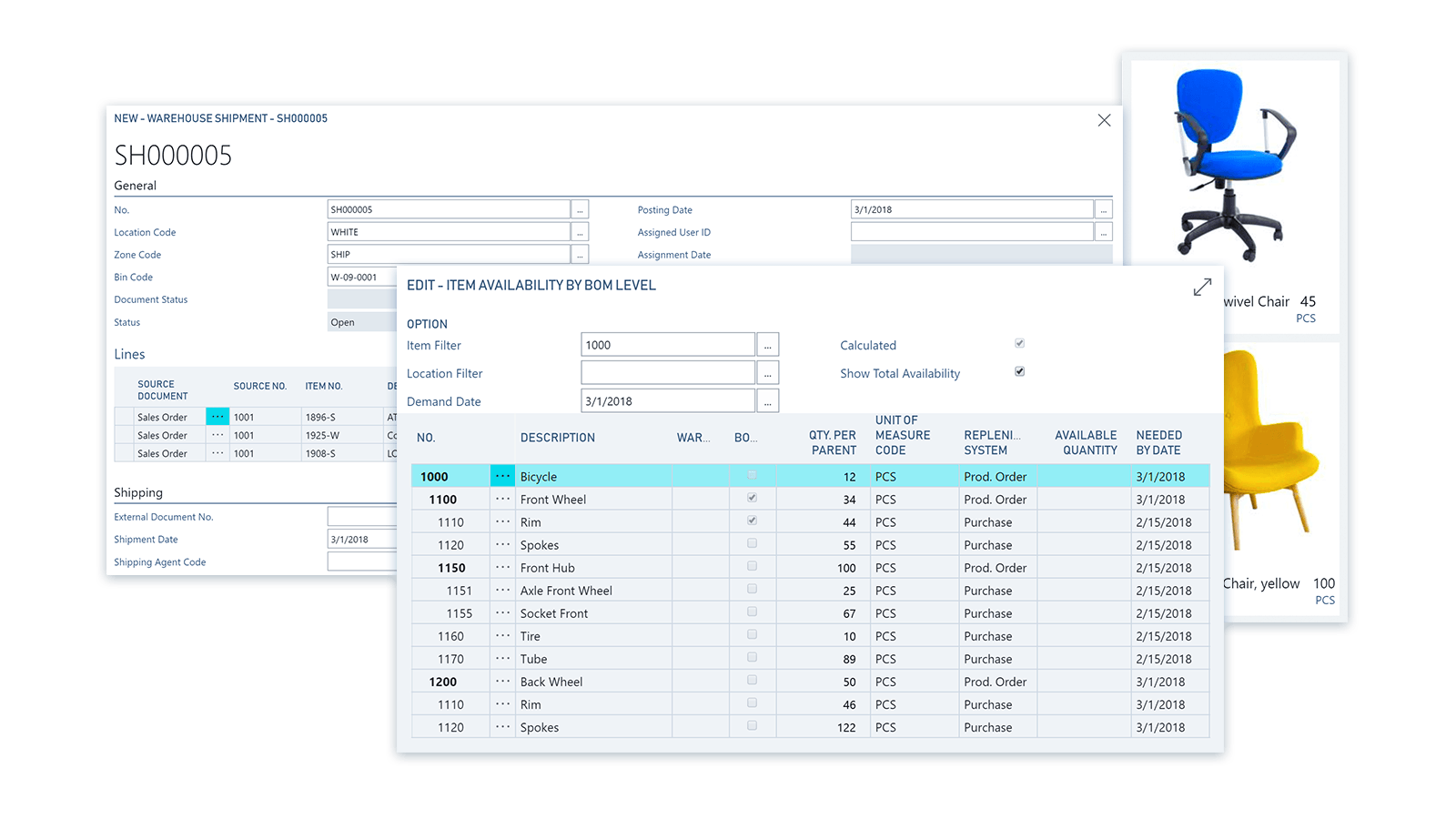 Efficiently manage your projects
Stay on budget
Create, manage, and track client projects with timesheets and advanced reporting and job costing capabilities.
Plan with precision
Manage resource levels with capacity and sales planning. Track customer billings against planned job costs.
Analyze project performance
Make effective decisions with real-time analysis of project status, profitability, and resource utilization metrics.
Improvement of service and sales
Improve the assignment of your service personnel
Respond quickly to service requests with a solution that helps you assign the right agent based on availability, location, and skills.
Improve customer satisfaction with better service management
Standardize your service delivery by tracking key performance indicators such as response time or customer service history.
Simplify service billing management
Set up pricing groups based on criteria such as service type, failure type, customer, or currency.
Increase sales productivity
Accelerate the quote-to-cash process. Quickly respond to sales inquiries, manage service requests, and process payments, all from within Outlook using built-in artificial intelligence.
Formerly on Earth, now in the Cloud
Business Central is first and foremost a cloud-based solution.
When talking about the differences between on-premises and cloud-hosted computing environments, it's important to understand what we mean by "environment". Simply put, it's where and how your data is hosted and accessed.
On Premise
On-premise means that an organization maintains and is responsible for the entire IT environment.
In the Cloud
In the Cloud means that this environment is hosted offsite, on external servers responsible for maintaining and securing the environment.