Continia
Easily manage your travel expenses
From receipt scanning to reimbursement, Continia automates every step of the expense reporting process.
Automated expense management
As you know, having to manage travel receipts or any other business expense activity wastes something very valuable: time.
Continia Expense Management is a solution that allows you to simplify the recording and validation of travel-related activities using your smartphone, a web browser, and Microsoft Dynamics 365 Business Central. It also provides you with the ability to view day-to-day credit card spending directly in Microsoft Dynamics 365 Business Central.
Continia makes the tedious process of expense reporting obsolete.
Available at your fingertips: capture your expenses in one click
With the Expense Management app, simply take a picture of your receipt, and quickly fill out the customizable form. When abroad, you can use the application offline and avoid roaming charges.
With the Expense Web portal, save emailed receipts directly and then fill out the same customizable form as in the Expense Management application.
You can also register your business trips by vehicle, both via the application and via the web portal.
These records are transmitted directly to Microsoft Dynamics Business Central, where the accounting department can take over. The employee on the road is therefore no longer obliged to draw up an expense report. The result: considerable time savings for the employee and the accounting department.
Data retrieval is easy, manual or automatic.
Continia Expense Management allows you to import employee credit card usage directly into Microsoft Dynamics Business Central and automatically link each expense to a recorded receipt.
Manually
With Continia Expense Management's import feature, you can export a statement file from your bank's site and import it directly into Microsoft Dynamics 365 Business Central.
Automatically
Simplify your work by fully automating your credit card transactions. Continia will communicate directly with your bank.
Tired of chasing down expense reports? That's a thing of the past!
Automatically link a receipt to the corresponding credit card transaction without the need for accounting department intervention; this is now possible with Continia Expense Management and its intelligent matching technology.
No need to verify that all credit card transaction receipts have been sent to you. You will automatically receive an overview of transactions for which no receipts have been received. Continia Expense Management will send a message to the employee on the move, as well as an e-mail with the missing receipt information.
This gives the accounting department a tool to manage the consumption of employees on the road so that everything can be documented easily and simply. Accounting is back in control!
Direct access, from Dynamics 365 Business Central
With Continia Expense Management you have access to receipts related to a specific accounting entry or receipts related to a project. You can then open them from the overview in Microsoft Dynamics 365 Business Central. This makes it easier for you to validate, as well as for internal and accounting purposes.
Manage your expense management with ease
Once the receipt is recorded, you don't have to do anything else, the accounting system takes over! No need to write an expense report when you get home.
Accounting only uses Microsoft Dynamics 365 Business Central to collect receipts and travel data. Activities are recorded as an accounting entry. Travel record management is done, like all transactions, in Business Central.
The activities of traveling employees are collected in Microsoft Dynamics 365 Business Central on a daily basis so that you have a real-time overview of company expenses directly in your financial management system.
Microsoft Dynamics 365 Business Central ensures that everything is properly accounted for. You will find the expense report detail on the left side of the screen and an image of the receipt(s) on the right side. This allows the accounting department to quickly allocate a hotel bill to different account numbers, for example, depending on whether it is for accommodation or catering expenses.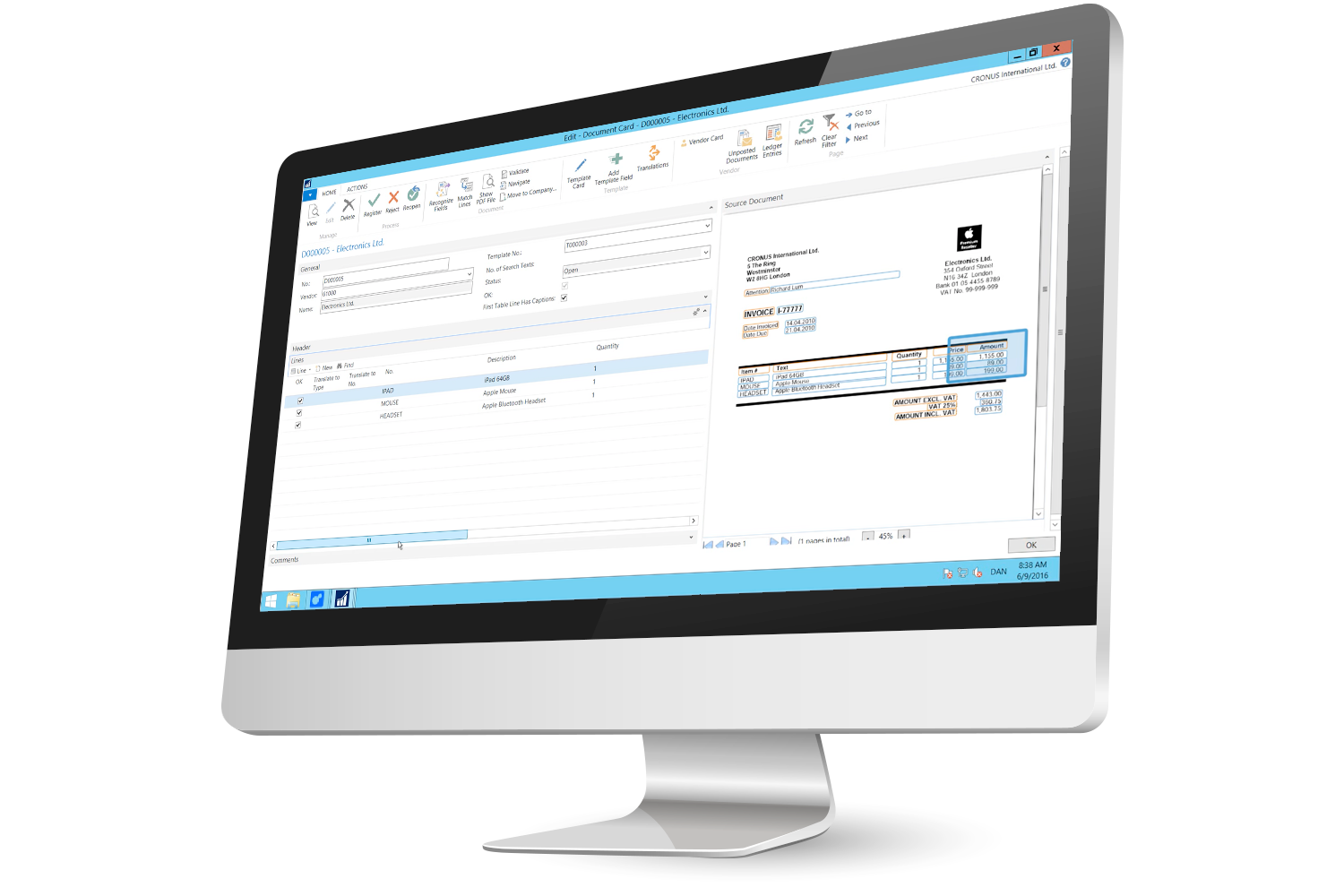 Automatic deduction of VAT on even the smallest receipts. Each account entered individually is affected by tax rules and VAT, so no manual intervention is required.